Discography / Antiguo Canto: The Music of Marcelo Coronel
Contemporary classical guitar music based on Argentine folk music composed by Marcelo Coronel and performed by Christopher Dorsey.
CONTENTS:
Música de los Andes (2006, dedicated to Christopher Dorsey)
01 Antiguo canto (huayno)
02 El viento blanco (bailecito)
03 Inti Raymi (sanjuanito)
04 Sasañán (aire de danzante)
05 Cuequita (cueca boliviana)
Imaginario popular argentino: centro y noroeste (2000)
06 Pachamama (zamba sin segunda)
07 Salamanca (chacarera)
08 Coquena (baguala)
09 La Umita (vidala santiagueña)
10 Velando al angelito (gato)
Temple del Diablo (2008)
11 Preludio
12 Danza de las abejas (huayno)
13 Casi nada (chacarera)
14 Coral
15 Machetazo (gato)
16 Andar y andar (vidala santiagueña)
17 Señor Guitarra (chaya)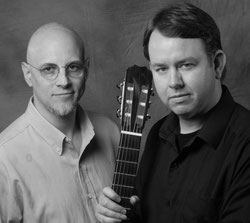 In the fall of 2006, Christopher Dorsey studied Argentinean folk music and interpretation with composer Marcelo Coronel in Rosario, Argentina. Chris commissioned Coronel to write the solo guitar work Música de los Andes and is also the work's dedicatee.